So, while it was brilliant being home for a few weeks and everything, I found that I really missed my sewing machine. Like, really. I think I might have to persuade my mum to invest in one! So when I got back to Leamington last weekend I was very keen to get straight into making something, and decided it was time to have a go at New Look 6000. I bought the pattern back in September or October from the fabric stall in Coventry market, and it was £2.99. Having seen so many adorable versions of it all across the sewing blogosphere I was keen to give it a go, but in the interim other things got in the way. But anyway, it seemed like a good sewing project to kick 2013 off with so on Sunday afternoon while Nic was working, I cut my fabric out and got going.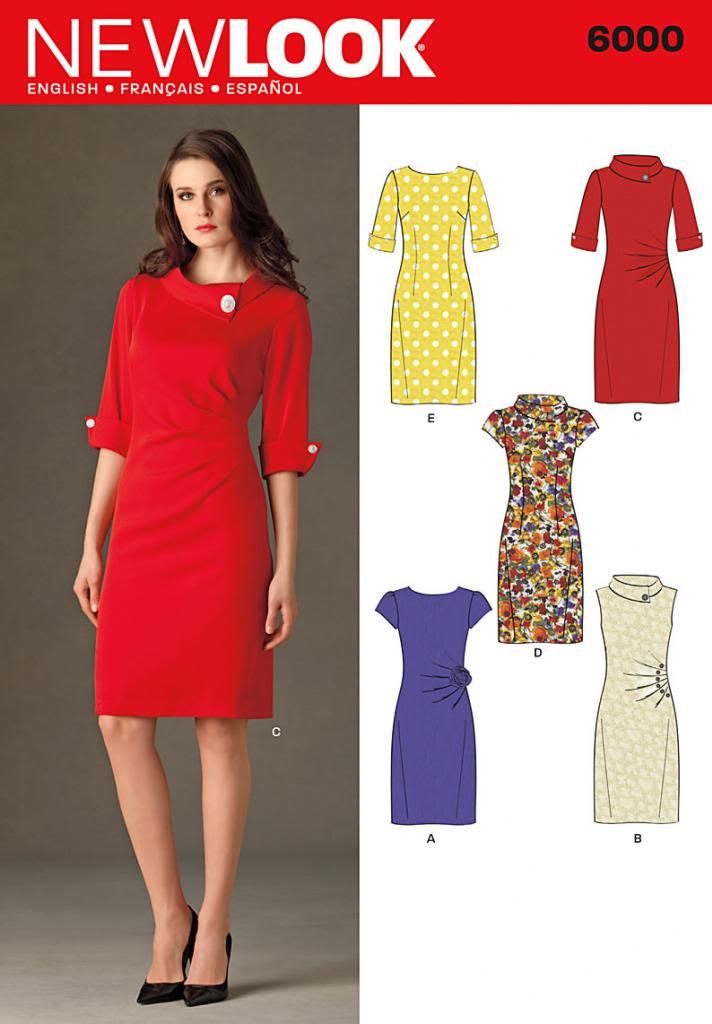 The fabric I used is a pea-green polka dot mystery polyester fabric I bought from one of the stalls in Birmingham Rag Market at the meetup in November. To be honest I'm not usually a fan of this slippery fabric but I liked the colour and the price, £2 per metre, and thought I'd be able to use it for something. I love the colour, and naturally I love the pattern but otherwise this fabric is not the most enjoyable stuff. I probably wouldn't buy a garment made from it. I can tell it's going to be a bit sweaty. So think of this as a wearable muslin! I cut a size 12 and the pattern is very straightforward to sew – I made view E, which doesn't have the collar or the side ruching, but does have the elbow sleeves with the excellent cuff. I think all in all there are only 5 or 6 pattern pieces and I got this mostly sewed up within a few hours. It's very straightforward. I dived in without making any adjustments and found that I needed to let the side seams out a bit and that, typically, the back neckline gaped like flip. I wasn't sure how to adjust this being as the back of the dress is just two pieces – there's no waist seam – so I took a leaf out of
Lizzy's
book and added a couple of darts to either side of the zip on the back neckline. I know this is probably an OMG SEWING CRIME but whatever. It worked, mostly.
I decided to call it the 'Polka Dot Problem' dress because, well, you all know how many polka dot dresses I have in my wardrobe already...
As you can see, the fit is okay but it's not ideal. I think the 14 will be too big – and it will certainly be too big in the upper back! But this is something I'm happy enough to tinker about with at some date in the future. I'd also take
Jane's
advice and raise the bust darts slightly as they're quite low. And I'd probably use fabric that I liked a bit better.
All of that griping aside, I am pretty pleased with this make! If I'm totally honest, I probably won't get tons of wear out of it. This is partly because this fabric frays like nobody's business, and while I have secured the seams as best I can with lots of zigzag stitching, I think its longevity will be affected by this. I put a concealed zipper in and as you can see from the photos it's not brilliant – but it's what I had in my stash – and I have come to dislike them! Ideally I would take it out and re-insert it because it's not the best insertion ever, but I'm not sure the fabric can take it.
So, you can see that the back needs some work! But that's fine for now.
But anyway, I was being positive, wasn't I? It's really cute! I really like how it looks on, and I love the colour, and I get a massive kick out of the sleeves and cuffs. I finished the cuffs with this little pearlescent buttons I had in my stash and I think they're adorable. I also love love love the neckline. I have a couple of pencil dresses from ASOS with this high neckline and I really like it on me, even if it's not the most flattering on a busty lady such as myself. So overall I think this frock is made more of win than of fail. Slightly. It does feel more like cake than frosting and I think we've all established that I am a frosting addict!
I love the cuffs on this make - and the buttons were in my stash
I am happy as well at having tried a few new things with this make. With the exception of when I took my chiffon bridesmaid's dress up (I hated every minute of doing that) I haven't really sewn anything with slippery fabrics – apart from lining, that is. This was a bit of a pain, but not as much as I might have thought. I've never really made a pencil dress since I've been sewing, so that's a new thing, and I've never done cuffs. So all in all I think this is a good start to 2013.
SEWING SMUGFACE
All of that said, I'm done with this fabric and I have loads of it left. It's 60 inches wide and I'd say I have about a metre and a half of it left. I know I haven't made it sound like the most enticing prospect but I actually do think it would make a cute drapey top, maybe like Gertie's Portrait Blouse or even a Sorbetto (although I'm not sure you could make bias binding out of this fabric) and I even think there's enough to squeeze out another one of these! So I am going to give the remainder away to anyone who would like it. I'm not sure if I'll have much interest but if you'd like it, leave me a comment with your email address and what you think you'd use it for. If there's more than one comment, I'll pick one at random. To sweeten the deal, I'll put a few mystery presents in along with it! I'll post anywhere. If I give you all until midnight GMT on Saturday 19th January to leave your comment.
It's very simple and I've known all along I could make my own as the fabric is Michael Miller Paris Ville, but I decided to wait until the sales to see if either of the UK retailers I know have it (
Deadly is the Female
and
What Katie Did
) would put it in the sale. £120 is far too much, but £60 is more manageable – especially when the fabric costs £12 a metre. But they didn't and I was weirdly relieved that I had an excuse to make my own! So I did a sneaky google and saw that
Sewing Through The Motions
had had the same idea and used New Look 6886 to make her own, so I have taken her recommendation and bought the pattern. The dress itself has a slightly gathered skirt so I will probably do this too rather than use the skirt pieces from the pattern.
New Look 6886 - super frumpy pattern envelope, as per.
I'm going to test make the whole thing with this rather fabulous flamingo fabric that I bought on ebay. Again, this is a case of seeing something I like and making my own as Brighton-based boutique
Dolly Dagger
have their own brand dresses made from this fabric.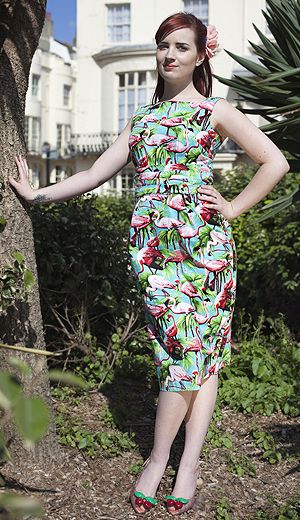 Dolly Dagger Waikiki dress - no longer available
But £120 for a wiggle dress made of fabric I know they bought in Fabricland for probably under £2.99 a metre? That sets off all my El Cheapo alarm bells, and they all say HELL NO. Also, having bought a Dolly Dagger own brand dress in the past I'm dubious about the quality. Sadly I missed out on getting this fabric for £2.99 from Fabricland as they're out of stock but I found some on ebay for not much more, and it's going to make a test run of my Bernie Dexter knockoff. Yes, I will look like Pat Butcher's living room. No, I will not care. So that's my weekend sorted!